ON PAPERWORK
Recently I have discovered that there is a big interest in show paperwork. Although I can't speak for all sound designers or engineers, I am happy to share some of my thoughts and examples. Although there have been movements to try and standardise paperwork for sound designs, much in the same fashion as lighting symbols or Lightwright(tm) forms, there seem to be two factions: USITT/Educational Theatre and New York designers. Some designers have striven to incorporate full front-panel layouts for rack elevations, while others prefer a simple model type + label layout. Some people have scripted VectorWorks(r) to export lists to FileMaker Pro(r) or Excel(r) tables, but others have had less use for those sorts of features.
My personal opinion is that so long as the drawings are coherent, the data concise, and the lists clear, it really does not matter much what system one uses. As with the actual sound system, maybe it is not as big a deal what kind of loudspeakers one uses, provided they are used in the proper way.
Tony Meola, designer for Wicked, has kindly allowed me to share some of the paperwork that was drawn for that show. When I begin the paperwork process, I usually start with a System Flow and Speaker Plan/Section simultaneously, having already obtained a plan and section of the theatre and important scenery. The screenshots are JPEGs, but if you click on them, you'll get a PDF version.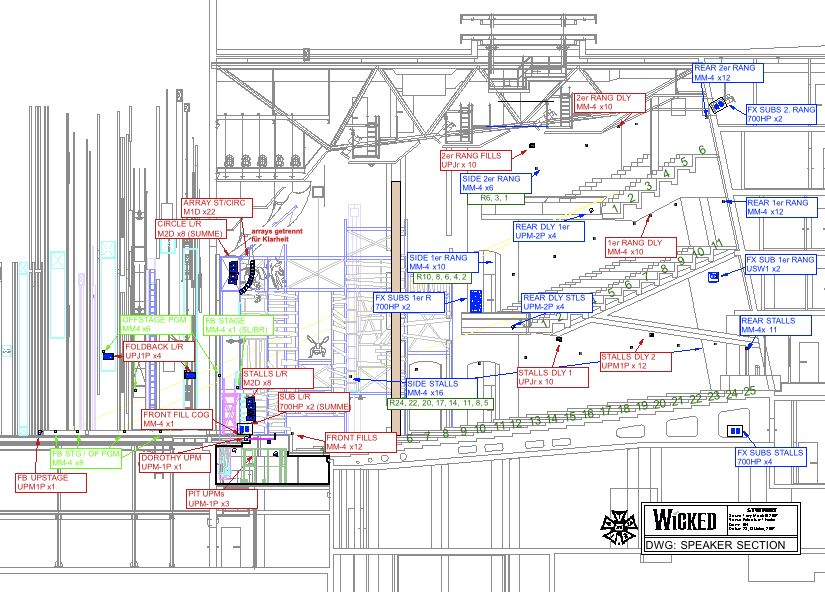 An early portion of the process often involves the layout of the orchestra pit, and in conjunction with the music and technical departments. Since the sound department is often responsible for the set-up and partial installation of the orchestra, it falls to us to agree upon a suitable layout: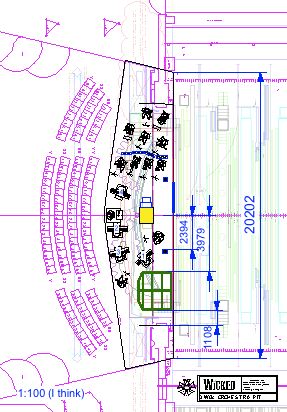 Sometimes we need to think about the layout of the equipment at Front-of-House, so that becomes another drawing:
It is also often useful to illustrate clearly specific sub-system wiring for the sake of the crew:
After these basics have been tackled, more specific hardware drawings are processed; for a show like Wicked, much of the thinking had already happened on previous American productions, so it was a matter of documenting clearly what we did in order to facilitate the international versions. Remember that a digital camera is your friend: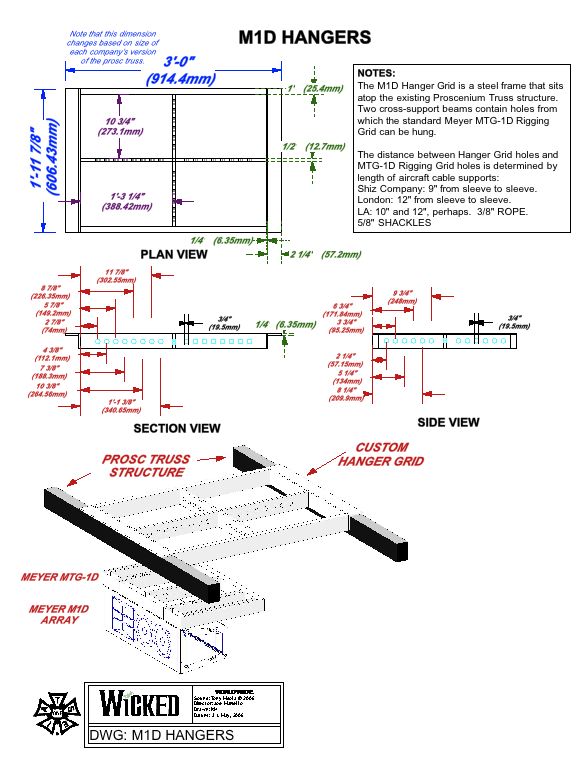 Some theatres require custom-built hardware, and so drawings are made to illustrate and pre-construct the items; from this drawing not only can theatre management see the predicted result, but the same drawing can be sent off to the metal shop for fabrication: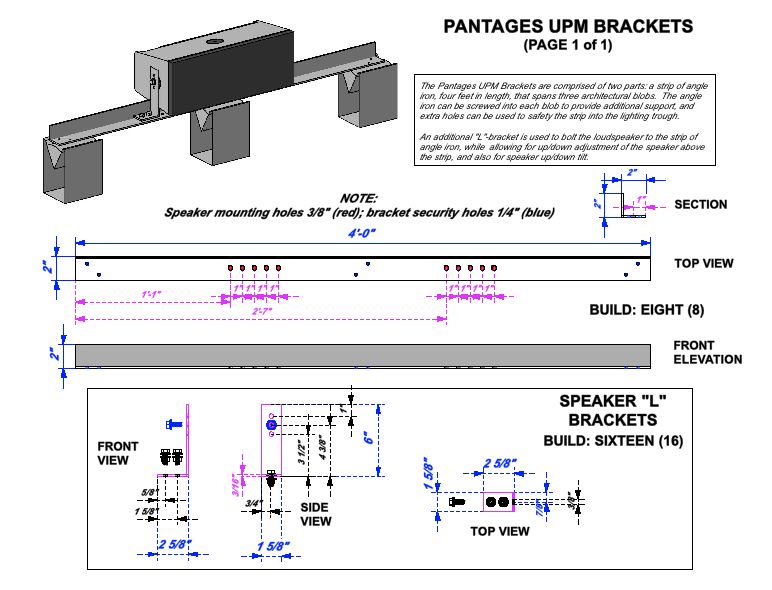 Even mundane items, like carts for transporting speakers, should be documented for later use; if one company needed a speaker cart, it is entirely possible that a second company might need the same thing:
Then comes some paperwork for the shop build. As a Production Engineer / Associate Designer, part of the job entails heading the shop build and making sure people have things to do. Drawing simple diagrams helps obviate unnecessary talking and discussion:
The same thing goes for custom wiring projects for either the shop, a third party manufacturer, or the show crew: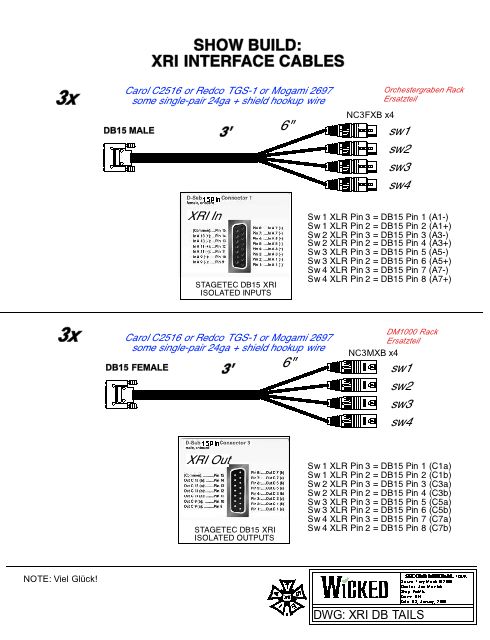 Speaking of the shop build, in America, this is where most of the racks are built. As you can see, my versions of rack drawings are pretty simple: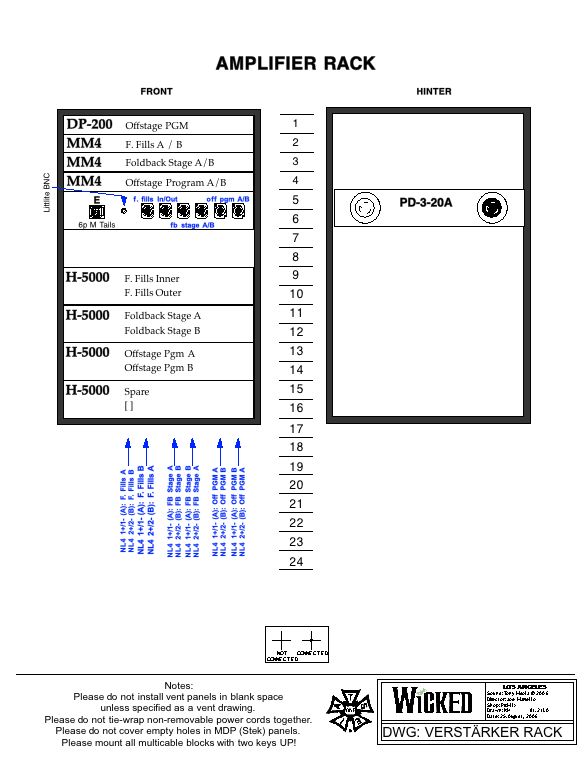 However, some require a bit more thought and documentation for patching purposes:
But what about that whole FileMaker thing?
That's here.